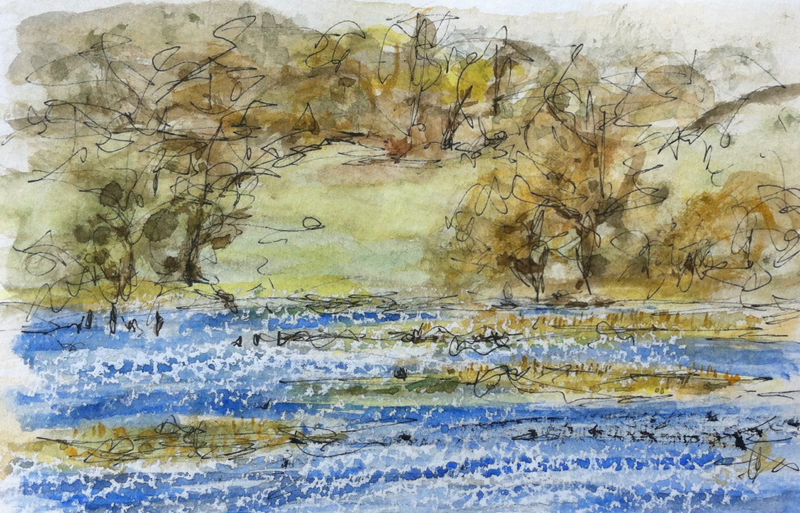 One of my daughters lives in the Southampton we have visited the area of many occasions but hadn't really been down to the waterfront. On this particular visited we decided it was time to remedy that, of course I took my paints with me, this is my selection of Southampton Sketches.
It was beautifully peacefully walking through Manor Farm Country Park, in the upper reaches of the river Hamble but being early in the season there weren't many boats about.
Weather wise it was a funny old day, warm when the sun was out but cold when the clouds came over, and as you can see from this painting dark clouds were gathering over Botley.
Bursledon
The following day we walked towards Bursledon, not quite as peaceful as the M27 runs overhead, but they're more boats! Quite a lot were moored up at the boatyard with some owners busy preparing them for the upcoming season's sailing.
Walking back towards Hedge End there was a very high spring tide and the ground was quite boggy, it turns out it this area is a salt marsh. It was very pretty, but there was a cold wind, so this was painted quite quickly!
Southampton Water
The following day we did something a bit different and changed our usual mode of transport travelling back to Cornwall via boat! We did a mini cruise. It was quite an experience and it turns out I am not a good sailor! But the best bit was sailing through Southampton Water where I attempted to capture Royal Victoria Country Park but of course it was moving rapidly away from me!
Sketches from a later visit
On another occasion we visited during the summer when the weather was a lot warmer!
Our daughter has now moved and we there is a lovely riverside walk along River Itchen. On this sunny day, it was very busy, children were playing in the river, families were out walking along and you could even find a shady spot under the trees.
In my eagerness to visit a local beach we visited Lee on Solent. It was actually surprisingly close and didn't take long in the car. The beach is quite different from Cornwall but it was lovely to see all the boats out on the water.
Warsash
Another place we visited is Warsash. I don't know what this place is like in the summer, very busy I should imagine, but on a sunny March day it was lovely. Warsash is opposite Hamble-le-Rice on the River Hamble as it meets Southampton Water.
We walked along the Solent Way, with its views across to Hamble village towards Southampton Water. This is a very peaceful spot and I can imagine in the summer the water is full of people enjoying sailing on the water.
I stopped to capture the scene, although I feel I am being a little unfair – whilst it is a shingle beach it probably isn't as brown as I have depicted. The sun was glinting on the water and that was enough to detract from the Oil Terminals that we were looking at! It is interesting to see different waterscapes, it is such a different landscape to Cornwall.
This sketch is looking across Hook Spit, a special area for wildlife and birds, looking across towards Hamble.